Looking for a quality tyre replacement in Melbourne?
Look no further than Midas. If your tyres are wearing thin, talk to us about a tyre replacement in Melbourne. We can perform a tyre service at most of our service centres, and we offer a range of replacement brands to suit most popular vehicle makes and models.
If you're not sure which tyres you need, simply bring your vehicle into one of our conveniently located service centres and let our team look after you. 
Don't wait until it's too late; call Midas today for a free tyre check and report.
Signs you need a tyre replacement
Most people only look out for the visual signs that they need a tyre replacement, like a puncture or flat tyre. However, the rubber compounds in a tyre begin to break down after 3-5 years, after which time you should replace your tyres. Some other telltale signs that you need a tyre replacement in Melbourne include:
Vibrating steering wheel or body of vehicle when driving

Squeaking or thumping noises

Screeching noise when turning corners

Increased braking distance

Off centre steering wheel

Visibly punctured or flat tyre
Midas tyre service
Feeling a bit flat? You Midas well have the best tyre service around. When you choose Midas for your car tyre replacement, you'll receive:
Comprehensive inspection: Our experienced car mechanics will determine the best tyres for your vehicle.

Expert fitting: We'll remove your old tyres, fit your new ones and ensure that your wheels are balanced.

Final checks: We'll make sure your tyre pressure is correct, and perform a wheel alignment.

Drive away safely: All of our tyre services are covered under the

Midas Guarantee

for your peace of mind.
Call us for your next tyre replacement in Melbourne
With over 80 locations across Australia, including Brisbane, Sydney, Adelaide, Perth and beyond, your nearest Midas service centre is never too far away. With exceptional results at affordable prices, find out why more customers turn to us for their tyre replacement in Melbourne. Book online today or call us on 13 64 32.
Our recommended tyre brands include: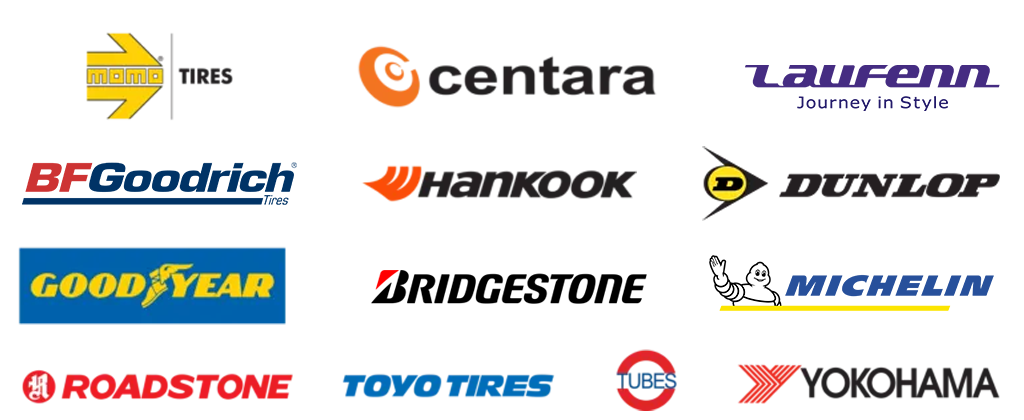 FAQs
How much does a tyre replacement cost?
The cost of a tyre replacement varies depending on a number of factors including how many tyres you're replacing, the type of vehicle you have, and the brand and size of the tyre. A single tyre for a small car starts at under $100, while tyres for sports cars and SUVs can cost upwards of a few hundred dollars per tyre. If you'd like a quote for your tyre replacement in Melbourne, get in touch with us online or give us a call on 13 64 32.
What is the average lifespan of a car tyre?
Most tyres are manufactured to last between 3 to 5 years. Even if your vehicle is not used regularly, it's still important to replace your tyres every few years as the rubber compound in the tyre breaks down over time.
When should we change car tyres?
You should follow the manufacturer's guidelines for your tyres and replace them every few years. However, if you notice any abnormalities while driving, including screeching sounds, an off-centre steering wheel or an increase in braking distance, you may need to replace your tyres sooner. Give Midas a call today for your tyre replacement in Melbourne and let us help keep you safe on the road.
Do you service all of VIC?
Whether you're in Melbourne or elsewhere throughout Victoria, you'll find a Midas service centre near you. Our expert car mechanics can replace your tyres at most of our service centres, so give us a call on 13 64 32 to find your nearest location.